Jaipur City
Jaipur city is popular as Pink City. It is the capital of Rajasthan and was the province of Rajput kingdoms for many centuries. This city is surrounded by beautiful sculpted walls & gates decorated with drawings create a backdrop of a color. Jaipur is a vibrant and colorful city with its unparalleled beauty, spectacular architecture and regal history. Beautiful Place to explore historical palaces, exciting camel rides, elephant rides, Rajasthani culture and city ethnic food. Jaipur with Agra and New Delhi, form the Golden Triangle of Indian, the most popular tour for any foreigner visiting India.
UNESCO World Heritage city, Jaipur is home to many magnificent forts, palaces, temples and museums like Amber Fort, Hawa Mahal, Nahargah Fort, etc. There is the old but beautiful different city altogether with its beautiful houses, narrow lanes, pink shops, buildings and monuments. Jaipur streets attracts tourists from all over the world for its sweets, snacks and the shopping arena it provides. From colorful bangles to printed Saris to the ornaments and jewellery of Johri Bazaar, Jaipur has everything to offer for food and shopping lover.
Popular Festivals of Jaipur City
Kite Festival
A festival that brighten the whole sky of Jaipur by flying colorful kites on the occasion of Makar Sankranti on January 14. On this day the entire people especially kids of Jaipur fly kites to compete with each other
and the winner gets some precious prize every year
. The Kite Festival brings happiness and reflect Indian Culture.
Elephant Festival
The most famous fair of Jaipur is this Elephant Festival. Celebrated on the Day of Holi every year in February or march. On this day you can explore dance, celebrations of astronomical shifts, & decorated elephants marching in ground this is a glimpse of Jaipur as the world's greatest city for festivals.
Teej Festival
Teej Festival in Jaipur is celebrated during the monsoon, months of late July & early August. This Festival is celebrated throughout Rajasthan
as important festival. On this day the women wears fancy and finest traditional attire
to celebrate the goddess.
Gangaur Fair
This festival is celebrated in Jaipur, by the worshiping of Lord Shiva and Goddess Gauri by carving out clay idols.On this day the married women pray for the long life of their husbands & unmarried girls pray to get good partner of their dreams.This festival is uniquely emotional and truly devotional.
Tourist places in Jaipur
Amber Fort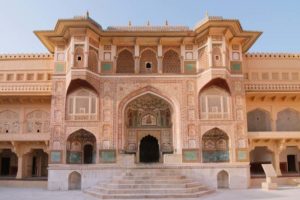 Amber Palace is a great place to see ancient architecture. It is a huge place because lot of enclaves with blends Mughals and Rajputs architecture style. There is a glass room with beautiful walls of mosaic mirrors. In Amber Fort you can enjoy elephant riding.
Nahargarh Fort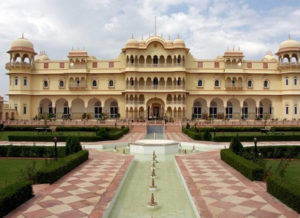 Nahargarh Fort is a majestic fort build on the Aravali Ranges. The most elegant and mesmerizing views of the city can be seen from here. And it is home of the Jaipur wax museum and glass palace.
Hawa Mahal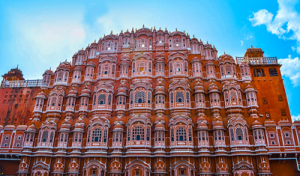 Hawa Mahal is one of the beautiful tourist place in Jaipur. This historic place is made up from red & pink stone. This palace has lots of small windows, with colorful glass. These was helpful for them to take a view of the city and small sized windows to keeps the palace cool. It is more beautiful in night because of colorful lights.
Jaigarh Fort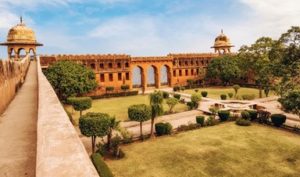 This fort is also known as the Fort of Victory, where the World's largest cannon is placed. The architecture of the fort is really amazing and well made it was used to store weapons & other artillery.
Albert Hall Museum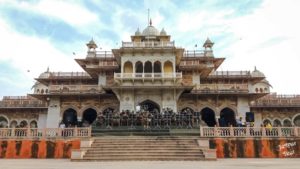 Albert Hall Museum in Jaipur is the most decorative and visually stunning place to visit. This museum has a rich collection of paintings, jewelry, carpets, ivory, stone, metal sculptures, and works in crystal.
Jantar Mantar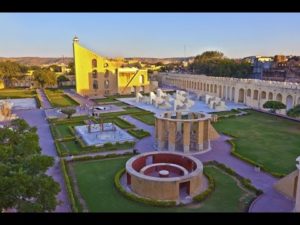 Jantar Mantar in Jaipur is the most important place to visit, as it encompasses blend of Science, Technology and Geography. You will be spellbound to see the creativity. So many instruments are there for time and astrology depending on the sun light and other planet position.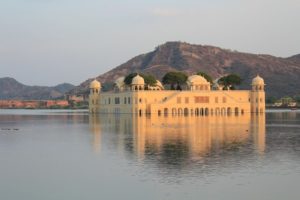 A beautiful palace located in the middle of a lake. Jal Mahal has a garden at top level & trees are seen from distant. Jal Mahal creates a majestic view at night when the reflection it spot on the water. This is also one of the top tourist spots of Jaipur.
---
Related Tours :
Golden Triangle Tour with Jaipur
Jaipur and Agra Tour
Book With Confidence
Plan your itinerary with full flexibility
Click Here