Jal Mahal the most sought after and photographed place you may seen on Internet. In the Jaipur city on Man Sagar Lake, one of the most popular tourist destinations of Rajasthan. The
Jal Mahal
was constructed from pink sandstone and is one of the best examples of Rajput and Mughal architecture styles. The top floor of Water Palace is accessible and visible because remaining floors remain submerged under water. This palace seems very beautiful in the evening as the entire complex looks like floating in water. One can see migratory birds swimming in the Man Sagar Lake. There is a garden with semi-octagonal towers on the terrace of the palace. Palace is decorated with beautiful paintings in hallways. You can explore the domes in the interior -
Chini Burj
that reflects traditional blue pottery of Rajasthan,
Pitli Burj
made of brass and the unique
Aina Burj
is a mirror dome.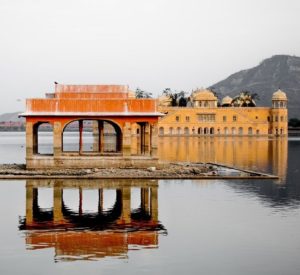 Why Jal Mahal was Made ?
The structure was made by the Ruler of Ajmer, in the eastern side of Amer hills. This Jal Mahal was originally build as Dam in 1596 A.D. to overcome the problems of shortage of water caused by severe famine. Then in the 17th century, the dam was renovated in a 300 meters long beautiful structure as Jal Mahal ( Water Palace). It is five floor building and have 3 gates to control water.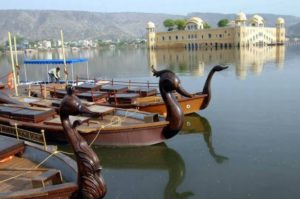 Boating in Jal Mahal
Boating across the lake, giving the visitor a stunning view of Jal Mahal and its surrounding. It is a popular activity in the Lake Man Sagar, which provides a spectacular view of the Jal Mahal during the evening.
Ticket Price of Jal Mahal
Jal Mahal is not costly place to visit .The ticket price of Jal Mahal is 10 Rs for Indian visitors and 50 Rs for foreigner visitors. Camera fee of around 25 Rs is additional. ---------------------------------------------------------------------------------------------------------------------------------------- Jal Mahal a beautiful palace in the middle of Man Sagar lake at
Jaipur
. Its one of the major tourist attraction in Jaipur. While crossing the palace, the whole view looks very charming that it attracts people of all ages. Looks more attractive in night because of the lighting. As this place is maintained by Government so visitors are not allowed to enter the Palace. But you can enjoy the view of the palace by boating in the lake. And any time is a good time to visit Jal Mahal but it is during the monsoon season when the views from this palace are more captivating. Comfortable shoes, hat and sunglasses is good to take if you are visiting there.
Book With Confidence
Plan your itinerary with full flexibility
Click Here